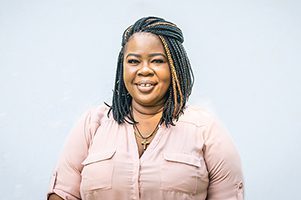 Hear from Georgia as she discusses her extensive background in Madison's nonprofit sector and her new role as executive director starting January 18, 2022.
Interview with Georgia Allen and The Road Home January 4, 2022
Congratulations on your new role as executive director at The Road Home Dane County. When do you start in that role?
Thank you! I start January 18th this year. Kristin, the current executive director, should be helping with the transition through February.
What drew you to apply for this position?
I've always admired the innovative, holistic and solutions-based approach The Road Home has taken to end family homelessness.
And when I saw the opportunity I thought this was kind of a divine moment to take my leadership that I've developed, personally and professionally, to the next stage. I've always had a passion for operations and social impact and my motivators are helping individuals, businesses, nonprofit and political entities understand how to best serve low wealth, BIPOC communities. It's about helping to alleviate challenges to advance resources that would ultimately promote thriving communities.
Can you share about the impact you've seen Kristin Rucinski make on the organization in her 10 years as executive director and how the agency has evolved under her leadership?
Yes, I've been aware of the organization for a long time and seen the support it provides to the community.
Externally, Kristin has truly lifted the BIPOC and lived experienced voices. She's really helped our community in a variety of environments from housing development to landlords to other partners to help them understand how resources either disrupt or promote racism and inequalities. That's been a huge contribution to our community. I have always seen The Road Home staff and Kristin leading some of those voices.
Internally, I can say she's created a safe work environment where people can bring their full selves to work. And she's created a diverse staff and team. And when I say diverse, I mean not only race, but diversity in experiences and perspectives.
Ultimately there's huge shoes to fill and I am confident I can continue the good work and impact she has developed.
In your time as Community Engagement Manager, what have you learned about the organization and its role in fighting family homelessness in the local community?
As the Community Engagement Manager I was and have been continually amazed by the engagement and the impact The Road Home has made not only to the families we serve but also in the faith-based community, the business community and the other nonprofit partners. I've just learned so much about our organization's impact in our community on a variety of levels. The biggest takeaway is just to know how much The Road Home has influenced our community while serving so many families and changing the trajectory of so many lives.
Can you tell us about your experience in working with nonprofits in the Madison-area?
I have previously worked for United Way of Dane County, and I helped to start Soaring Independent Cooperative. I serve on the board for Movin' Out, Inc. and served on both Access to Independence and The River Food Pantry boards. Social impact work and grass roots organizations like my cooperative and childcare endeavors are important to me. It's helpful to have a lot of collaborations and community engagement along those lines [social impact/grassroots] with the formation of the cooperative I helped to start.
I have connected with nonprofit/social impact organizations all of my life here in Madison and in a variety of ways personally and professionally. In my most recent endeavors, I've served on the Board of Directors for several nonprofits. I have served as board of director/officer for local nonprofits. I truly have seen and know how much local nonprofits care about the prosperity of our community. And really they work to disrupt the inequities in our communities. Also, I am aware that a lot of nonprofits are ready for change as much as our for profit partners and government entities are as well.
The Road Home believes that every child deserves a home. Can you explain to readers how the direct support team works to ensure children in The Road Home's housing programs have stable housing?
Sequences, stages and support.
Yes, the direct support team is able to meet our families where they need to be met and support them through what they need at the time they need it. Each family and each child goes through sequences and stages and needs a different type of support at different times in their lives. Our direct support team does a phenomenal job in having a diverse perspective and an understanding of different stages that people will go through. The Road Home is able to support by helping families identify where they want to go, creating a safe place to bring them to their full selves and heal. Helping families see past all the trauma they have experienced and then appropriately connect them to the resources that they need. Then they are able to receive that one-to-one support to get them to the next stage.
Holistic support can include pretty extensive knowledge on how to support families in programs to fit their needs. Can you speak more to this?
Yes, that would include providing support around education, not only for the parents but for the children as well, that will impact the families and children's well-being working towards being economically stable. Our team works to provide families with the professional development they are seeking. And employment-wise, we work with families to obtain those career goals that they have and how to be a good example for their children. There's mental health, again, we serve a lot of Black families and there's a lot of healing that goes along with that. Supporting families in their mental health journey is key. We also help with housing of course, connecting families to housing, acting as a liaison and an advocate to navigate some of those difficult conversations or misunderstood scenarios with landlords and neighbors. Our direct support team has seen it all and has helped support through it all with their extensive experience.
Lastly, as we move forward into 2022 and beyond, what can the community expect to see from The Road Home?
The Road Home will continue to serve families with children holistically and ensure that families in our programs maintain housing. We will continue to increase opportunities in the local housing pool and involve the community in solutions on how collectively we can end family homelessness. We will continue to expand, in collaboration with our partners, the resources that are needed to obtain and maintain stable housing.
And to start out the year, you'll see that 100+ more families will be served through our expanded housing voucher program. With a recent influx of housing vouchers in our community, we've been able to expand that program, our team and the number of families served. We are thankful to kick-off the year with this expansion.