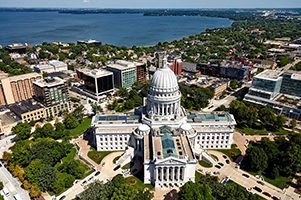 We are excited to announce that later this summer, The Road Home will launch a new rapid rehousing program to support youth aged 18 – 24 in our community who are experiencing homelessness. The new program is funded by the US Department of Housing and Urban Development's Youth Homelessness Demonstration Program (YHDP), which has awarded a $2.5 million grant to the Dane County Homeless Services Consortium for resources and technical assistance to create new approaches for combating youth homelessness in our community.
In addition to The Road Home's rapid rehousing program, the grant will fund Urban Triage's development of a transitional housing project for unhoused youth, as well as outreach, housing navigation and peer support services to be provided by both Urban Triage and the OutReach LGBTQ+ Community Center.
"The Road Home is grateful to partner with Urban Triage and the OutReach LGBTQ+ Community Center to address unmet housing needs throughout our community for young people," said Executive Director Cindy Browning. "We are very excited to expand our programming while recognizing the importance of collaboration."
The structure of the program is unprecedented for Dane County, says Housing Advocate Allie Grant, who has overseen implementation of The Road Home's portion of the project since the funds were awarded in September 2021. Instead of requiring specific service approaches, YHDP seeks to facilitate youth leadership, cross-system collaboration and partnerships among local providers to develop solutions to youth homelessness that respond to communities' unique needs, strengths and opportunities.
"The structure of the YHDP program responds to the fact that mainstream adult homeless services have not been adequately addressing youth homelessness," says Grant. "Young people typically have a hard time getting connected to services in the best place, and when they are connected, those services are much less effective. That means these young people tend to remain unstable for longer periods of time, and they often end up becoming folks who go on to experience homelessness later in life."
To foster innovation and collaboration, the YHDP grant funded an initial year of local needs assessment and planning, which provided stakeholders the necessary time and space to build relationships, identify opportunities and chart a course of action. This period also included the creation of the Youth Action Board – a team of young people from the Madison area with lived experience of homelessness that is responsible for project planning, onboarding and training project sta and monitoring overall program performance. In this way, YHDP goes beyond simply funding new services to empower youth with rst-hand knowledge of the problem to take the lead on crafting local solutions.
The project's two-year demonstration period will run through the end of 2024. During this time, the Youth Action Board and lead stakeholders will have considerable flexibility to make adjustments to resource allocation and project policies as opportunities for improvement are identified. The lessons learned through this process will not only benefit local youth on their journeys to stable housing, but will help strengthen efforts to end the scourge of youth homelessness across the United States.
"The great thing about YHDP is that what we're doing doesn't have to be set in stone," says Grant. "The whole point is to collaborate and have the ability to be flexible in our response to a very difficult and complex problem, and ultimately to create a new system that is sustained and informed by young people with lived experience of homelessness."