2021 Holiday Sponsorship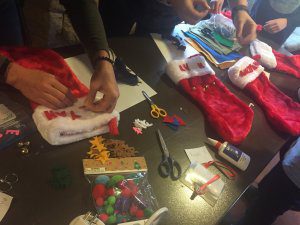 UPDATE: Thank you for helping meet our goal and supporting over 190 families this holiday season! Your generosity helped families this holiday season by purchasing gift cards for local families with children. Due to the COVID-19 pandemic, the importance of the health and well-being of our community members (donors/sponsors, program participants, staff, etc.) and input from our case managers and the families we serve, we continued to recruit for gift card sponsorships to help local families celebrate the holidays. Sponsoring families with local gift cards helps to provide a more fair, equitable and client-driven process.
Interested in providing more support this holiday season:
Become a Building Futures Apartment Sponsor. Consider making a life-changing difference for one family by becoming a Building Futures Apartment sponsor and, if you choose, getting involved personally with your family. Learn more here.
Sign up to become a recurring donor here. We make becoming a regular supporter of The Road Home easy by helping you set up automatic monthly giving. Recurring gifts are a powerful way to be make a significant impact as your gifts provide steady support and add up to make a difference for even more families over time. For as little as $10 month, you can support case management services which help families succeed at housing—and changes lives. Gifts at $50, $100 or more a month can do even more. How to Give to this program.
Make a financial contribution on our donate page or mail a check to The Road Home Office. Please note in the designated field on our website or make a note in the check memo of your donation intention to the Holiday Sponsorship Program.