Holiday Sponsorship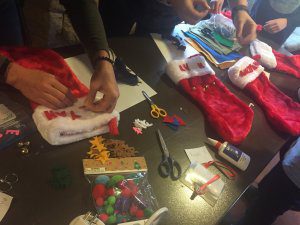 Make a big impact this upcoming holiday season by registering to sponsor holiday giving for a family served by The Road Home. This program matches local organizations, businesses, and congregations with families in our housing programs to provide gift cards for holiday shopping. This year, each family member will receive a $75 gift card to a location of their choosing. 
To make your sponsorship commitment for the holiday giving program, you can email our Office Manager, Betsy Berry at , or simply fill out our Holiday Sponsorship Google Form. We will then follow up with info about your sponsored family(ies) and their gift card requests, which can be delivered to our office at 890 W Wingra Dr in Madison between 9am and 5pm, Monday through Friday
To safeguard the health and wellbeing of all participants – and based on feedback from our staff and the families they serve – we are continuing our sponsorship program through gift cards. This approach is not only easier to manage for all involved, but helps provide a more fair, equitable and client-driven holiday experience for our families.
If you have any questions about this year's program, please contact our Office Manager, Betsy Berry, at or 715-896-7528. Thank you for your interest in brightening the holidays for local families who have moved from homelessness to housing!