Thanks to the generosity of 81 holiday sponsors (businesses, congregations, groups, individual families), 125 families including 320 children were sponsored for the holiday season. Please check back in November 2019 for this year's information.
Sharing the Holidays 2018
This holiday season, your family can become a sponsor for a family with children in our supported housing. By sponsoring a family, you bring extra joy and the spirit of giving to each family.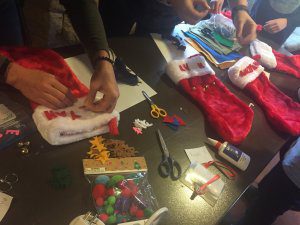 Getting Matched with Your Family
Each sponsor will receive a wish list form for a family that contains the family's basic identifying information along with a list of items they need or want. Lists are usually available Thanksgiving week. Please feel free to purchase items from their wish list but keep in mind that you do not need to purchase all items on the list. The wish list is to give sponsors an idea of what to get the family.
We also ask that you limit the amount of money spent to $50 per person. This allows every person who is sponsored to receive similar items and/or value of items. If you are thinking that you might be able to financially sponsor an additional family, please let us know!
Delivering Presents to The Road Home
Each family will receive a number on their wish list form which will help us identify their family. If you choose to wrap the presents that you purchased for the family, please write the name of the individual along with the number from their wish list on each present. This will allow case managers and staff to quickly identify where the presents need to be delivered.
Please provide us with a list of items purchased for each family member when you drop off the presents at The Road Home. Below you will find our Holiday Sponsor Information and In-Kind Donation Form. Filling this out will help us maintain our records as well as send proper thank you cards afterwards.
2018 Holiday Sponsor Information
Please drop off all gifts to The Road Home office no later than December 19th, 2018. Earlier deliveries are always appreciated! This will allow case managers enough time to deliver the presents to the families before the holiday season. If this drop off date does not work for you, please let us know ASAP.
The Road Home Dane County office is located at 890 W Wingra Dr in Madison, Wisconsin 53715. If you need assistance or have several items to drop off, please call us ahead of time.
Office hours are: Monday through Friday 8am to 5pm
Office phone number is 608-294-7998
If you have any questions and/or concerns, contact Alane Conn, Volunteer Manager at 608-225-1957 or via email at vol.mgr@trhome.org Thank you for your generosity and commitment to families who have experienced homelessness in our community.