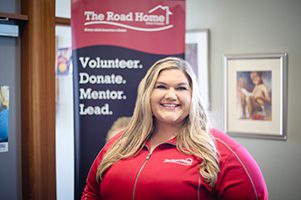 The Road Home Dane County has named Cindy Browning as its new Executive Director. 
"We are very excited that Cindy will be joining us to lead The Road Home in our mission to ensure that every child has a home," said Barbara Tormaschy, former President of The Road Home Board of Directors. "Cindy shares our passion for ending family homelessness and has great leadership experience that she will bring to our organization." 
Hear directly from Cindy in her Leadership Q&A:
Welcome to your new role! Can you tell us a little about yourself and your career at The Road Home Dane County? 
What excites me most about this position is that it aligns with my values. I have a deep passion for working with nonprofits that are focused toward ending and preventing homelessness. Understanding cycles of poverty while being driven to disrupt them is a core value that I hold. I thrive in a positive and supportive work environment and seek to have passion for the work that I do while leading and volunteering for organizations that impact and change the lives of many. I found my passion working with those who are homeless and survivors of domestic violence 10 years ago while receiving my undergraduate degree. I was placed in an internship with the YWCA Rock County Alternatives to Violence Program which was an emergency shelter. I grew from an intern into a Shelter Advocate working directly with the individuals and families that were residing in the shelter at that time. My work with the YWCA empowered me to dive deeper into the nonprofit world, working with agencies that provide support and services to those in crisis related to their basic needs focusing on housing; specifically, homelessness. I transitioned out of my role with the YWCA into a Housing Case Manager through Community Action Inc. of Rock and Walworth County assisting those moving from homelessness into housing.  From there, I served 7+ years as the Executive Director for the Stoughton Area Resource Team Inc. (START) whose mission is providing a safety net for those in crisis focused on preventing and ending homelessness. In January 2022, I became the Executive Director for the DeForest Area Community and Senior Center whose mission is promoting independence, self-reliance and well-being for older adults and their families, within a culture of caring to improve the quality of life for area residents.
The experiences that I had in the earliest of my career, have shaped and driven who I am today. I know that making a difference in this field is where my career started and where it will end. I have gained experience to understand that many of the barriers' individuals face stem from macro levels of policy change, education, advocacy and; awareness at large. I lead with passion, respect and empathy for not only the community members participating in programs but for staff and volunteers that are also working toward our mission. I am grateful to work with individuals who share this same passion and drive.
How long have you been in your leadership role here at The Road Home and what is the structure of your team?
I began my journey at The Road Home on December 19, 2022. I am a support to all staff within our organization. I work closely with our leadership team as well as our Board of Directors. I have prioritized being accessible and available to all staff within our organization while promoting a team environment. I believe we work better together.
Can you explain how The Road Home's innovative approach to housing services works to break the cycle of chronic homelessness?
The Road Home believes in Housing First and provides innovative approaches that dare to resist the stigma imposed on families experiencing homelessness. We invite creative collaboration to serve families holistically. The agency bravely engages with local grassroots organizations to build partnerships and work together toward our mission of ending family homelessness. Our programs recognize individualism within households. The services that we offer extend beyond supporting families with accessing housing. Our agency works to provide a 2-generational approach, ensuring that children within families have their basic needs met including having access to programming and extracurricular activities. We promote job advancement and employment readiness. Our Housing Advocates support families with connection to resources in addition to resume building and job search. We ensure our families have access to mental health supportive services through local partnerships. The Road Home recognizes that overcoming homelessness does not stop once families access housing; it is just the beginning of a new journey. Our connection with families depends on our approach, which relies on self-determination, person-centered practices, and empowerment.
What goals are you supporting your team in reaching at The Road Home in 2023?
I am working to support our team in cultivating an environment focused on kindness, respect, trust and transparency. 2023 will be a year of growth for The Road Home while many of our staff have transitioned into new roles. Working together to improve the quality of services provided for families maintains a top priority.
Do you have a favorite quote or personal mantra that you turn to for inspiration?
Without change there would be no butterflies.