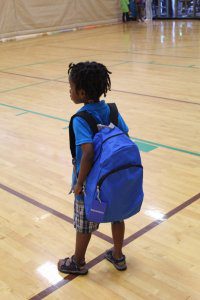 You can help children in our community who have experienced homelessness be successful in school. Each year from July 15 until August 15, The Road Home collects backpacks and school supplies for children in our housing programs. Please note that we only take donations during this window because of storage space limitations.
Please consider purchasing a backpack that you fill with the following items:
Elementary
Colored pencils
Calculators (with +/- key)
Markers (washable)
Highlighters
Middle and High School
3-5 subject spiral notebooks (college ruled)
5-6 pocket folders
Mechanical pencils
This is something you can do individually or you can organize a Backpack Party with your business, congregation, book club, sports team or other group. You can drop backpacks and supplies off at The Road Home office any day of the week from 7 a.m. until 5 p.m. during our donation window. Backpacks will be distributed at The Road Home's annual Families Moving Forward Celebration.
If you have questions, please contact Peggy Halloran by email at peggyh@trhome.org or by phone at 608-294-7998 ext. 311.