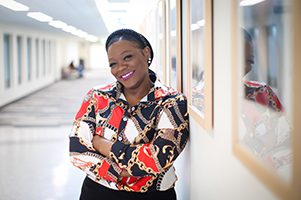 Dear Road Home Community,
There are many things I feel are important for our community to be discussing and I am proud to be an advocate and a voice for those experiencing trauma. As a mother who is now living in safe housing, attending school at Madison College and working as a Student Rise Advisor – I have come out the other side.
Have you heard of gang stalking? It's something people don't believe is happening, but it's real and it happened to me. It's a way for a group of people to try and control and manipulate you, sometimes without you noticing. My daughter and I were stuck in this unsafe situation where this type of stalking occurred in many areas of my life. It started in my neighborhood but had deeper roots than I realized. I felt isolated, paranoid and with no one to trust. After trying to find help in many messed-up situations, I became homeless and I was in an unsafe living situation with my daughter. That's when I got connected to a shelter program, where I was then connected to The Road Home to work with my housing advocate, Jen. Then I finally got into school (Madison College) and I've been thriving ever since. Before, I would say I folded when everything was happening, but now I don't let the fear take place. I've been able to talk about what happened to me and educate people on gang stalking.
Currently I have a 3.5 grade point average and I'm studying towards a liberal arts transfer: Arts and Humanities. My job here at the school (StudentRiseAdvisor) is basically giving students resources as far as if they need a tutor, if they need any kind of success coach, advisors, a place to study, support with bus passes, food. Basically, anything to retain and keep students in school and graduate. It feels good to help lift barriers for students so they can focus on studying. I'm more of a giver than a taker, and if I can give, I love random acts of kindness.
For career goals, I would like to open a foundation where families can get help with keeping custody of their children. My main goals would be that parents can attend school and focus directly on that, feeling secure with a roof over their head. I know what it's like when you don't have stable housing and you can't focus on school. So I want to help lift those barriers for others and see how they can thrive. In this foundation I dream of, I want there to be stress management classes, financial aid classes, support for families there. I want to give back.
When I dream for my children, I want them to be whatever they want to be.I like to say my youngest daughter is anastronaut ballerina.I would like to lift any kind of barriers for her, and all my children. I want them to know that you can do anything you want, explore, find what's right for you and grow.
– Lai'Kita
Lai'Kita's story is an excerpt from the 2023 Spring Newsletter. CLICK HERE to view the entire newsletter.