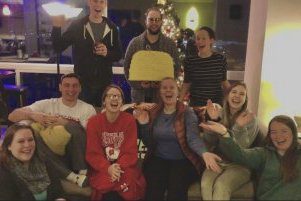 In the fall of 2018, Redeemer City Church began working with The Road Home staff at The Breese, supporting families in a variety of ways.
by Grant Perry
In the fall of 2018, Redeemer City Church planted a new community group close to downtown Madison, with the hope of partnering with an organization serving families in the local community. We quickly became drawn to The Road Home, and after meeting with their coordinators and hearing more about their mission, our group unanimously agreed to seek out a partnership with them.
We began working closely with the team at The Breese, donating bicycles for kids, working with schools to deliver meals to families, and providing childcare at several resident events throughout 2019. We truly enjoyed these events where we got to play with kids, meet parents, and hear more about the stories of those who were neighbors for many of us. Obviously a lot changed in the world in 2020, and so too did many of our opportunities for serving with The Road Home. With the ability to serve in person impacted by the COVID pandemic, our community group decided to have a fundraiser to continue our support during this difficult time for The Road Home. Through that fundraiser we were blessed to be able to make a donation to The Road Home.
Our church has been fortunate to work with partners as committed and excellent as The Road Home. We share in their joy at the stories of families that have benefitted from their work, and at their growth to reach more and more families in the community. As we hopefully see the light at the end of the tunnel of the pandemic, we are excited to someday soon again have the opportunity to work side by side (within six feet!) with The Road Home in their mission to help Madison families.