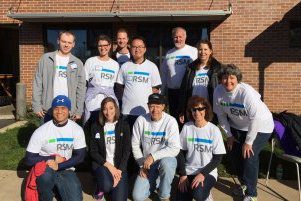 RSM supports The Road Home Dane County as part of their commitment to giving back in the communities where they live and practice.
by, Shawn Carney, Managing Partner, Madison, RSM US LLP
At RSM, as a provider of business services to middle market companies along with tax and wealth management services to individuals, we take our commitment to stewardship seriously. This is why giving back to the communities where we live and practice is a priority for us. The Road Home is one of those organizations in our community that is addressing an important need, especially in these unprecedented times.
For the last several years, RSM has committed to The Road Home in several ways. In addition to our sponsorship of the Annual Homes for Families Breakfast, a partner in our Madison office, Steve Kelley has recently joined the Board of Directors. Other partners have provided professional tax advice and several of our partners and employees, including my wife Nancy and I, have made personal financial contributions.
As a firm and as individuals, we are honored to support The Road Home since we strongly believe in the mission and the manner in which it's executed. Since our involvement with the organization, we are truly humbled by the number of families who have "Reached New Heights" with assistance from The Road Home. This is directly attributed to the dedicated professionals, volunteers, board members and community friends that are part of this great organization.
Our involvement with The Road Home is one way we can fulfill our commitment to stewardship in our community and more importantly, continue assisting families in reaching their goals.
Thank you Road Home for all you do!