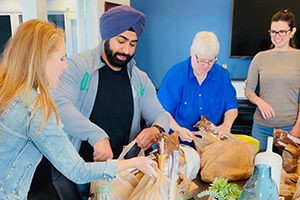 Families with children supported by The Road Home who reside at The Breese were recently treated to a family fun night held in the community room. Guests who attended enjoyed a presentation by UW Madison speakers on an interactive science session on insects and bugs. And with the generosity of the Ferraro Real Estate team, each family served by The Road Home took home a meal kit assembled and donated by the local company.

The team's support doesn't stop there. Ferraro Real Estate also held a Wish List drive to collect household necessities including cleaning supplies, laundry detergent and more. In addition, the real estate team has chosen The Road Home to be recipients of their fundraising efforts throughout the coming year. When presented with the opportunity to give, Emily Briggs Licensed Office Administrator said, "Our team decided to give without any hesitation. We are excited to be part of your mission!"
If you or your organization is interested in collecting much needed Wish List supplies for families supported by The Road Home, please contact development director, Peggy Halloran to coordinate a drive. And click here to learn more about Wish List supplies. Thank you!