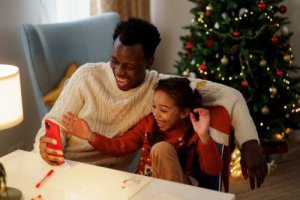 Thank you to all of the generous sponsors who helped to make a big impact this upcoming holiday season for families served by The Road Home. This program matches local organizations, businesses, and congregations with families in our housing programs to provide gift cards for holiday shopping. This year, each family member will receive a $75 gift card to a location of their choosing.
Please consider making a donation this holiday season and give back to local families. Thank you for brightening the holidays for local families who have moved from homelessness to housing!
To safeguard the health and wellbeing of all participants – and based on feedback from our staff and the families they serve – we are continuing our sponsorship program through gift cards. This approach is not only easier to manage for all involved, but helps provide a more fair, equitable and client-driven holiday experience for our families.
Families also enjoyed holiday photo sessions provided at The Road Home main office. These 20 minute sessions were available for families enrolled in our housing programs just in time for the holiday season. "I love my kids. I love how you can see it on my face. I'm forever bless the pictures came out great!" says Shanika, proud mother and community member. Our agency is proud to offer this opportunity at no cost to local families. Thank you to the families for sharing their holiday joy with our team.