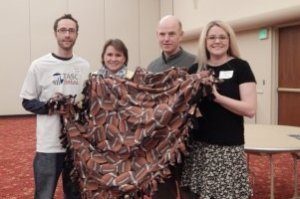 Patti and Dan Rashke of the Rashke Foundation found in The Road Home an organization that spoke to their hearts. 
By Patti Rashke of The Dan & Patti Rashke (TASC) Family Foundation
A few years ago, Dan and I attended our first Homes for Families Breakfast with the TASC Cares Employee Philanthropy Committee. We were impressed by The Road Home and its efforts to make a difference in families' lives in our community. The group's mission to provide opportunities for homeless families spoke to our hearts, and we vowed to do more in the future to support it.
Now as Homes for Families Society members, Dan and I enjoy giving to The Road Home because it is a well-run organization with strong leadership. We are grateful for their team's tireless work helping families transform their lives—from providing shelter to securing employment, child care, and health care. For this reason, we are pleased to give back by offering in-kind FSA benefit administration. Through our in-kind services, The Road Home is able to offer a valuable employee benefit at no cost that helps attract and retain employees while providing significant tax savings—a win-win for these "unsung heroes" who are working hard to improve our community.
At the same time, The Road Home offers TASC employees many opportunities to get involved at varying levels. Our employees have volunteered their time to assist with The Road Home evening activities and supervision at congregations. And through the United Way Business Volunteer Network, employees helped clean and paint apartment units for the Truax Apartment Rehab Volunteer Project. Over the years, we've provided funding for events, and donated blankets, backpacks, and school supplies.
It is an honor to support an organization that works so hard to help end family homelessness.