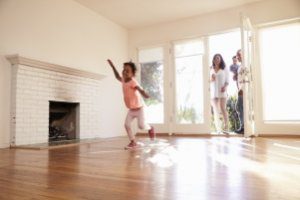 When families become homeless, they lose everything. Recently, we witnessed a child's enthusiasm at having a place to call home again. 
When families become homeless, they lose more than apartments and furniture. They also lose stability and daily routines as they double up with friends or family, stay in shelters, or even sleep in their cars. Research shows that these conditions of noise, crowded spaces, lack of privacy, constant relocation and uncertainty lead to toxic levels of stress that disrupt family routines and roles. This can impact life outcomes for children. Yet, research also shows that when families who have experienced homelessness are placed in housing and given appropriate support, families stabilize and children thrive again.
Recently, one of The Road Home case managers was with a family as the mother showed her children their new apartment for the first time. The family had been homeless for several months, staying in shelter on a night-by-night basis. The case manager could hear *Ava, the second grader, shouting to her teenage siblings as she explored upstairs. "It's a dream! It's a dream! It's a dream!" Ava then ran downstairs to tell her case manager how excited she was to "settle in" to their new home. For Ava, settling in meant she would know where she was sleeping each night, she could have a quiet place to do her homework, and her family would have a place to sit down to dinner together.
We believe that having a stable home should be more than a dream for children in our community. It should be a reality. Thank you for making dreams become reality for children and families.
*Names have been changed to protect the family's privacy.