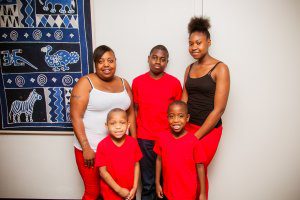 Shameka and her children had no stable place of their own and so went house to house, doubling up with friends. She felt like she was getting nowhere – until she found The Road Home.
by Shameka
My name is Shameka and I am a 36 year old mom of four beautiful kids – 1 girl (16) and 3 boys (14, 7, and 5).
I had my first child when I was 19 years old. It was hard raising a kid with no help. By the time I had my baby boy I was going house to house doubling up with friends with no stable place of our own. I decided I needed to try something new, so I packed myself and my kids up and moved us out of my brother's house, and drove.
I drove until I ran out of gas, which happened to be in Madison. I was lucky to have a friend here to help me navigate a new city. My babies and I stayed in shelter for 9 months. I was working hard and doing everything I was supposed to do, but it felt like I was getting nowhere.
I was just about to give up and go back to my old life of living on people's couches when I got the opportunity to move into an apartment through The Road Home's Housing & Hope program. I have been here since November 19th, 2013, and my baby had his first birthday in a home, in our home.
The Road Home has helped my family out a lot, and has helped us get to where we are today.