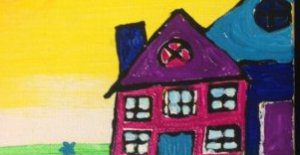 Here's an inside look at how much a family needs to earn to afford housing in our community—and how our programs fill in the gaps. 
Did you know that in order to afford a two-bedroom apartment at the fair market rate in Dane County someone earning minimum wage would need to work 102 hours a week? Many of our families—even those who work full-time or more—find that housing remains out of reach. To afford housing in our community, a person needs to earn at least $18.54 per hour. Yet the average renter in Dane County earns $14.41 and the families we serve often earn less. This means that affording housing remains a struggle for many—especially considering that renters comprise 42% of Dane County. (Read more about affording housing here.) With a very tight housing market, there is much competition. Homeless families may have little or no rental history, credit issues or previous evictions. This makes it hard to secure housing even when they can afford it.
Our housing programs help families bridge that gap and obtain stable housing. Our case managers work with families to identify housing that makes sense for their situation. Then our programs provide rent subsidies and supportive services for an appropriate time period. Recently at our annual Families Moving Forward event, we celebrated some of the successes of our families in securing and maintaining housing as well as reaching other important milestones. Many families had stories similar to Lila, a mother who recently stayed in our shelter. Lila was working three jobs but still couldn't make ends meet. With a short-term rental subsidy and case management support from The Road Home, she recently move with her children into an apartment. With that stability, her children can thrive in ways they couldn't before.
Thank you for helping make housing within reach for families in our community.