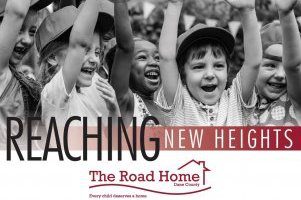 Georgia shared her story at our breakfast about going from receiving regular eviction notices to maintaining stable housing and employment.
At this year's annual Homes for Families Breakfast, over 500 people gathered at the Alliant Energy Center to learn about the issue of family homelessness in our community and about how we can work together to decrease it. This year's theme was Reaching New Heights, with a focus on how together with your support, The Road Home can help families reach new heights as they work towards self-selected goals in housing, employment and education.
Georgia, the featured speaker at the breakfast, shared her story. She explained that while she was growing up, her family struggled to maintain housing. "As a child and young adult, being unstable was uncomfortable but normal," she explained. After her daughter, A'zaryah, was born, Georgia's partner went to jail for domestic abuse. Georgia was exhausted as she tried to balance single parenthood with employment. She worked long hours but still received eviction notices every month. Georgia began to fear A'zaryah would face the same challenges she had growing up. When A'zaryah was just a few weeks old, Georgia got connected with Early Childhood Initiatives and then with The Road Home. Qiana, her case manager from The Road Home, helped Georgia continue making progress toward her goals. After overcoming a slight set back, Georgia moved into subsidized housing right before A'zaryah turned two years old. "I think about that day often when I am having a hard day but come home with my daughter to turn the key to the same home the last four years," Georgia said. Securing stable housing has allowed Georgia to focus on other areas of her life. Now, Georgia works full time at United Way, has co-founded Soaring Independent Cooperative (a home care business) and serves on the board of directors for three nonprofits. At age six, A'zaryah is also thriving. Having reached new heights in her own life, Georgia is now able to serve in the community, helping others reach new heights also.
Kristin Rucinski, Executive Director of The Road Home, talked about some of the ways The Road Home has reached new heights this past year—and helped families they serve reach new heights also. "From January-June this year, we worked with 180 families, including 420 children, with 97% of them maintaining housing during that time," she said. The Road Home implemented the Moving Up program, which creates openings in permanent supportive housing programs. We collaborated with The City of Madison's Community Development Authority to get 45 more Section 8 vouchers in our community, helping make housing affordable as rents continue to rise. The Road Home also began providing housing case management services to families at Healing House, a medical shelter, added a Peer Support Specialist and completed our first year of a pilot program called Heart Room, a collaboration with Early Childhood Initiatives, Joining Forces for Families and Orchard Ridge UCC.

Funds raised at The Homes for Families Breakfast help support housing programs, case management and other services for families with children transitioning from homelessness to housing. The Homes for Families Breakfast is successful because of the support of our generous sponsors, our table hosts and guests. Thank you for coming together to make a lasting impact on families with children who have experienced homelessness in our community.