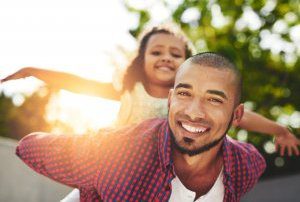 Over 500 people attended this year's annual breakfast. Were you one of them? If so, share one of our Facebook posts or write your own to let others know.
Over 500 people gathered at the Alliant Energy Center for The Road Home's 14th Annual Homes for Families Breakfast on Thursday, November 8th to celebrate progress in decreasing homelessness for families with children and commit to continuing to work together in the future. The Breakfast is The Road Home's most important fundraiser of the year, raising a significant proportion of the organization's annual budget. Funds raised help support housing programs, case management and other services for families with children transitioning from homelessness to housing.
Alex, the featured speaker at the breakfast, shared his story of transitioning from homelessness to housing with the assistance of The Road Home. Two years ago, Alex, his wife and his six kids were spending nights on the floor of The Salvation Army and going to The Road Home during the days. Alex was working at a fast food restaurant. "My wife and I tried to keep a positive image and would joke around with the kids so they wouldn't be scared or worried about our housing situation," Alex said, "If kids see you down, what hope do they have?"
Then, through a partnership with United Way, The Road Home, The Salvation Army, YWCA Madison, Meridian and the City of Madison's Community Development Authority, Alex's family was able to move into a five-bedroom apartment at Truax Apartments. Through this partnership as well as a rent subsidy that came as part of The Road Home's Rapid Rehousing programs, at first Alex paid $727 a month in rent instead of the market rate of close to $1500. Alex got a job working for Meridian where he has been for over a year. His family has been in stable housing for two years now. "Because of stable housing and stable employment, we've been able to move forward. I have been able to think of future possibilities for my family that would not have been possible to even imagine a few years ago. My family loves being together, the kids are appreciative, they keep their rooms clean, they help their dad barbecue. Man, those are hallmark moments. It's priceless when I see them smiling, laughing and having a good time together," Alex said.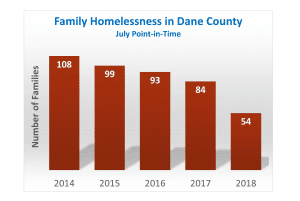 Kristin Rucinski, Executive Director of The Road Home, talked about some of the ways The Road Home has expanded possibilities for families this past year. Moving into a new building has given them space to do new things including holding classes on topics such as how to purchase a home and, for middle and high school students, how to prepare for college. Through generous support and important partnerships, The Road Home has also expanded available housing programs with new affordable housing offered through The Breese, Heart Room and others. She also shared the exciting news that the newest data shows that family homelessness in Dane County has decreased by nearly 50% in the past five years. Still, there is work to do with about 100 families in Dane County still in need of affordable housing.
The Homes for Families Breakfast is successful because of the support of our generous sponsors, our table hosts and guests. Thank you for coming together to make a lasting impact on families with children who have experienced homelessness in our community.