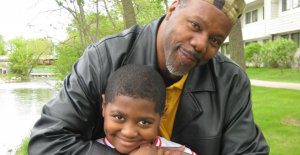 For families that are homeless like Tim and TJ, life can be filled with setbacks. Yet, with a little help they can achieve what feels like the impossible. Tim and TJ did.
For families that are homeless, life is often filled with setbacks and discouragement. Yet often, with a little help and support, our families are able to overcome difficulties and roadblocks and achieve important success.
Take Tim and TJ.
When TJ was nine years old, life seemed good. Tim had a job and he and 9-year-old TJ had an apartment. But sometimes life takes a turn. Tim lost his job due to medical issues. Then, he lost his apartment when he couldn't keep up with the rent payments. Before they knew it, they were looking for an emergency shelter and facing an uncertain future.
Research has shown that children who do not have stable housing suffer significantly in their health and education, are nine times more likely to repeat a grade and are four times more likely to drop out of school.
When Tim and TJ entered The Road Home IHN shelter program they immediately felt welcomed. "It was like an extended family," says Tim. "The volunteers did everything they could to ease the strain of being homeless."
After four months in shelter, Tim and TJ were one of the first families accepted into a program for persons with disabilities called House-Ability. This program provided the safety net they needed to move into stable housing and work on plans for the future with their case manager. Rental assistance kept them in an affordable apartment while Tim addressed his health issues and started to pursue an associate's technology degree.
Throughout this journey, Tim's biggest priority was ensuring that TJ was healthy, happy and focused on doing well in school. A recent role in his high school play nurtured TJ's dream of acting and he plans to pursue a degree in performance arts. Despite all this success, they still face challenges. Tim admits he sometimes struggles in school, but doesn't give up because he wants to show his son "when you fall down, you get back up."
TJ worked hard too. Nine years after experiencing homelessness, TJ graduated from high school! Reaching this milestone is cause for celebration for any teenager and his family. For TJ and his dad Tim, this accomplishment is all the more significant when they look back on their journey.
Save
Save