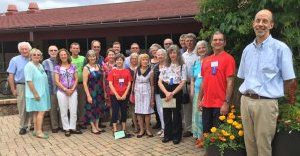 Covenant Presbyterian, supporters of The Road Home for almost 20 years, feels a natural connection between our mission and their church mission.
Covenant Presbyterian is a founding Host Congregation, providing space, meals and volunteers for The Road Home's Interfaith Hospitality Network (IHN) evening shelter since the program began in 1999. The congregation generously supports The Road Home with annual financial contributions and donations for special projects such as the Housing & Hope Capital Campaign for affordable housing and, most recently, the addition of an education specialist. Members have also provided wish list items and school supplies to help families as they move into housing.
Charlie Berthoud, Covenant Presbyterian pastor, recalls that when interviewing with Covenant in 2012, he was excited to learn that the church has a long relationship with The Road Home, as the church he served in Pittsburgh was also a host church for a homeless shelter. He notes that there is a natural connection with the mission of The Road Home and the church's mission.
"As Christians, we are called to love our neighbors, particularly those that Jesus had special concern for: the lost, the least, and the last," he says. "The IHN shelter program helps us carry out this calling, and more importantly it does a wonderful job serving people in need and building bridges among diverse populations."
Lynne Tosseff, Covenant shelter volunteer who also volunteers on The Road Home events committees, says she loves being at Covenant "because I know there is lots of support from all areas" for the shelter program. "Thank you, coordinators, for going many extra miles to make The Road Home work for Dane County. The efforts are so appreciated by the guests as well as the hosts."
These sentiments are echoed by other Covenant volunteers. Chris Barden says, "I like volunteering because it's good exposure for our kids that there are other children less fortunate. It also teaches them the importance of giving time for others in need."
Lisa Cantrell will never forget the connection she made with a mom and her children in shelter. "I had the privilege of holding her sick baby and getting her to sleep, which gave the mom the opportunity to focus on her other children."