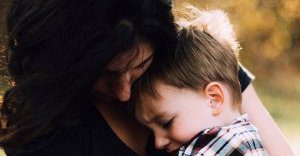 Have you ever wondered how families come to our shelter or housing programs? Tabitha's story demonstrates the path from crisis to stability.
Have you ever wondered how families come to our shelter or housing programs? Or have you wondered what the path looks like from crisis point to stable housing for families that The Road Home works with? Tabitha's story illustrates how it can work.
Tabitha arrived in Madison with her two-year-old son, Marcus, at the encouragement of an aunt who lived here. Once in Madison though, Tabitha found she had nowhere to go. Not knowing what else to do and feeling scared for her son, she contacted the Salvation Army. She stayed there for a few months before transitioning to The Road Home's Interfaith Hospitality Shelter Program.
When families first connect with us, many are in dire circumstances. Life has thrown them a twist—often in the form of health problems, job loss, a move that didn't unfold as they expected or other unexpected bumps. Families sometimes reach us after calling the Housing Resource Line maintained by the Homeless Services Consortium of Dane County or through referrals from other programs. Whatever the case, all families now go through a central intake process first. Here, they are matched with a shelter or program that best fits their situation. When agencies in our community work together like this, we can be more effective and help more families
Tabitha enrolled in The Road Home's Housing Stabilization Program and quickly found an apartment. Our goal is get families into permanent housing as soon as possible. Research tells us this is the best way to promote long-term success. Although Tabitha didn't need further rental assistance, she chose to continue in the program. She worked with her case manager to plot a path forward. The Road Home offers a variety of programs that provide different levels of short or long term rental assistance and other services depending on a family's needs. Case management is always an integral part of the program. As soon as families come in contact with The Road Home, we begin providing case management services. Studies have shown that making case management services part of the formula more than doubles a family's chances of remaining in stable housing.
As with Tabitha and Marcus, case management support doesn't end when a family moves out of shelter. Our case managers meet with families to understand what their goals are and how they might help families meet these goals. Tabitha's case manager helped Tabitha search for a job and then consider schooling options. Tabitha was able to enroll in a Certified Nursing Assistant Program—something she had not even considered was possible before. She quickly rose to the top of her class.
The path from crisis call to stable housing looks different for each family. But we at The Road Home work hard to help families through the entire process, giving them the support and resources they need to reach their goals.