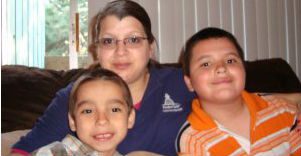 Ella, her husband Bill, and their three children, Laura (19), Chris (9) and Nate (6) were homeless and living with family members. They had lost their previous apartment when Ella experienced a re-occurrence of breast cancer and was no longer able to work. Bill couldn't keep up with all of the family's bills on his single income. After staying with family for four months, everyone could feel the strain. The older couple they were staying with was not used to having active children in the household and Ella and Bill longed for their own space again.
Joining Forces for Families (JFF), another local agency, referred Ella and Bill to the Rapid Rehousing for Families Program where they met with coordinators and completed an intensive housing search. With case management support and a small rental subsidy, the family was able to obtain a beautiful apartment which they have made into their home.
After moving into housing, Ella secured employment again. She also does advocacy work speaking to survivors of breast cancer. Despite the stress of the past year, Bill has maintained employment. Caseworkers have connected Chris and Nate to the resources and services they need and they are doing well in school. Laura has been able to access health care for the first time in over a year.
Ella describes the program this way: "It provided help for the mind, body and soul. The program not only helped with rent, but it helped my family as a whole. The shallow rent subsidy provided each month gives our family peace of mind." The path forward looks bright now. Ella explained, "The Road Home has given us the moral support and stability to stand on our own two feet when the time comes and the program ends."