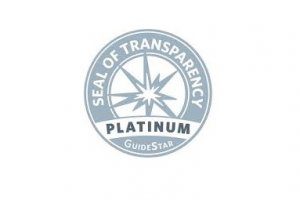 A lot of nonprofits are working on many important causes. How can you evaluate which ones are really making a difference? We'd like to share some tools you can use — and let you know how The Road Home measures up.
GuideStar. This nonprofit information service is one of the easiest and most common ways for a business or individual to glean information about a nonprofit they are contemplating supporting. It currently has information on over 2.5 million organizations. Through GuideStar, a nonprofit can obtain different levels of transparency with platinum being the highest level available. An organization who has reached the platinum designation is sharing basic information about the organization as well as financial information, goals and strategies, and their progress and results. The Road Home has received the platinum seal of transparency. You can see our GuideStar page here. Please note that you must log in with a free account to see all the information.
Financial Information. There are several ways nonprofits have accountability for their finances. One way, required for some nonprofits, is an independent audit. Scott Haumersen of Wegner CPA explained, "Wegner CPAs has been performing annual audits of The Road Home since its inception almost 20 years ago. I am very pleased to report that the organization received another 'clean' audit this year with an unmodified opinion from us on their financial statements. They have been very conscientious about maintaining an accounting system with a high degree of integrity, and take seriously the importance of good internal controls and monitoring. As always, we were pleased with the overall results and financial condition of the organization." Nonprofits are also required by law to make their 990s public upon request. These tax reporting forms submitted to the IRS by tax-exempt organizations give an overview of the financial standing. You can see our 990 form  on our Guidestar page by clicking on "Show Forms 990" on the right after logging in.
Annual report. Many nonprofits, including The Road Home, produce an annual report each year. This document provides a summary of the past year's activities. Our 2016 annual report, which can be found on our website here, shows how many people we served, what our success rate was, how many volunteers we have and other useful information.
We hope these tools will help you evaluate and feel confident your support is being put to good use.