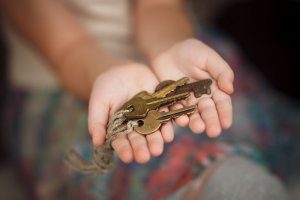 Brianna and her three children spent much of the past two years homeless–until they were able to get a new start in The Breese Apartments.
We recently shared our exciting news about a partnership with Stone House Development that led to the opening of The Breese Apartments. These new affordable three-bedroom units offer space to house larger families who have experienced homelessness. Now, we'd like to share with you the story of one of these families.
Brianna* and her three children had spent much of the past two years homeless—sleeping in shelters or sometimes in their car. Brianna was already accustomed to facing challenges. She suffers from a chronic medical condition that requires dialysis three times a week. Still, Brianna was holding down a job and her family was surviving. Then her father passed away and everything seemed to go downhill. Brianna's health got so bad that at one point Brianna fell into a coma. She was unable to keep her job and soon fell behind on her rent. It was not long after this that the family found themselves homeless. After losing her housing, Brianna found it difficult to find a landlord who would give her another chance.
Brianna finally got the call she had been waiting for: she was accepted into a new affordable housing unit at The Breese Apartments. Several weeks into their new housing, Brianna feels like she has her family back. Her children are doing what they can to contribute, offering her encouragement and support with her health problems. Her oldest son got a job so he can help the family financially. "When we were homeless, all of our positive support of one another fell apart," Brianna says. "Now that we have a home, we are working on spending time together. Our goal is to re-start our family dinners, movie nights and game nights so we can all bond together." She wants her family to not just be stable, but to be even better than they were before.
Thank you for making success stories like this possible!