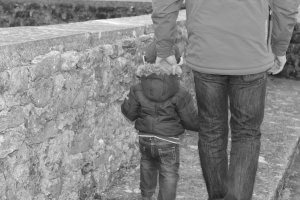 The problem of homelessness can be discouraging. But new data shows that we are making a difference: homelessness is on the decline nationally and locally.
It can be easy to get lost in the vastness of the problem of homelessness – and wonder if what we're doing is really making a difference. Recently released data shows that we are: homelessness is on the decline both nationally and locally.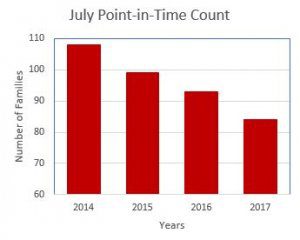 HUD (the United States Department of Housing and Urban Development) gathers data on homelessness from around the country. They rely on "snapshot" counts, known as Point-in-Time counts, where tens of thousands of volunteers seek to identify the number of homeless individuals across the country. From this, we know 58,000 families with children experienced homelessness in our country on one night in January 2017. This is a 5.4% decrease from 2016 and a remarkable 27% decrease from 2010. Locally, results show similar patterns. The graph here shows the July Dane County Point-in-Time numbers for number of families which decreased by over 20% in just four years. Similarly, January numbers fell from 732 individuals in 2013 to 535 last year.
How do we explain this positive downward trend? Experts attribute it largely to the Housing First model adopted by many communities. Research continues to show that this model, based on getting families into housing as soon as possible and then providing supportive services to address other issues, works. HUD's recent report to Congress
 states, "These 'Housing First' models have proven to be a more effective and efficient response to families experiencing temporary crisis as well as those enduring the most chronic forms of homelessness."
At The Road Home, we follow the Housing First model. We are excited to see progress being made both nationally and here in our own community. We also recognize we still have work ahead of us and are committed to continuing to help more families find and maintain housing in the future.