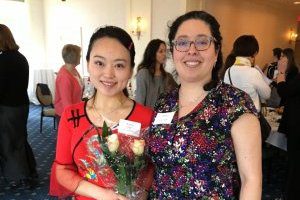 This month we got to celebrate with a mother in one of our housing programs when her essay about overcoming homelessness earned her a scholarship.
One of our favorite things to do here at The Road Home is celebrate the successes of families in our housing programs. This month, we had a fantastic opportunity to do this. Emay, a mother in one of our housing programs, was awarded a $2500 scholarship through The Business Forum. The Business Forum offers programs and activities to unite professional women, build relationships and help women realize their potential. They have awarded nearly $400,000 in scholarships to women in financial need since 1989.
As part of the application process, Emay wrote an essay about overcoming domestic violence, experiencing homelessness and her goals for the future. Emay received her High School Equivalency in June 2018 and has been enrolled at Madison College, working towards a Liberal Arts degree. She hopes to eventually transfer to the University of Wisconsin-Madison and major in education, with plans to become a teacher. Emay plays the guzheng (a Chinese instrument) and has been giving lessons to others for 20 years. Helyn, her case manager, helped her edit the application essay, practiced interviewing skills with her and drove her to the actual interview. On May 2, Emay attended a luncheon where she was presented with her award. She mesmerized the audience there with a guzheng performance. We feel so fortunate to have been part of Emay's journey and can't wait to see what the future holds for her!