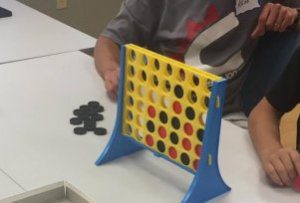 We've only been in our new building a few months, but we can already see the impacts of this increased space as we are able to serve families even more effectively. 
Just a couple of months ago, we moved into our new building. Even in this short time, we are already seeing the impacts of this increased space in several different ways. For one thing, our case managers no longer have to share office space. This means that families in our housing programs can feel more comfortable, knowing they have privacy during their meetings. Families also find it easier to come to our building because of the more convenient access to bus routes.
Another benefit of our new building is that we are able to offer classes to families in our housing programs. In August, we held our first class in our new program space—a class on home ownership. Sara Whitley, a mortgage loan officer at Old National Bank, shared with people in attendance information on the importance of credit, budgeting, types of loans and important factors to qualify for a home loan. The class provided lots of new information that could help families plan for the future. For example, one woman in the class was excited to learn that she could use her Section 8 Voucher to help pay her mortgage if she purchased a home. While parents attended the class, volunteers played with their children in our new children's activity room—something we didn't have space for in our old building. This helped remove barriers for families interested in attending.
We also make our space available for meetings such as the Dane County Homeless Youth Summit Planning Committee and the HUD (Housing and Urban Development) Continuum of Care Grant Application Committee. We believe bringing people in the community together to work on solving the issue of homelessness helps us all be more effective and efficient. Recently, we had a unique opportunity to share our space with others in the community. We partner with Sankofa Behavioral & Community Health to provide counseling to families in our program through the Bright Future Child and Family In-Home Counseling Program (currently funded by a grant from Attic Angel Association). In July, Sankofa experienced a flood that made many of their offices unusable. We were able to make some space in our building available for them to continue meeting with clients so they could provide their important services to those who need them.
Thank you for your support that made this move possible.