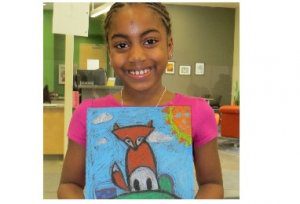 Join us to celebrate the artwork of children in our Little Picassos Program. The Gallery Opening will be June 2 from 12:30 to 2 at the Meadowood Neighborhood Center.
Come celebrate children's creativity in our Gallery Opening on June 2 from 12:30 to 2 at the Meadowood Neighborhood Center, located at 5740 Raymond Rd, Madison. The displays will feature masterpieces by children in The Road Home's Housing & Hope program as well as the nearby Meadowood neighborhood who have participated in our Little Picasso program. Light refreshments will be served.
Little Picassos was started by Leora Saposnik, a longtime volunteer at The Road Home. While interacting with families at The Road Home, Leora met Jade. "Jade lit up around art, and it became clear how much she would love to have art classes, and how much I would love to have Jade and her family as part of my life. After a few years of having regular art playdates with Jade, she suggested we expand this to include more children. I thought it was a brilliant idea!"
The resulting Little Picassos program is now in its third year. The program introduces children to a wide range of art history, art styles and media – including mosaic, ceramics, self-portraiture, batik, fiber arts, graffiti, and a lot more. "Creating art has a tremendous impact on the developmental growth of a child and has proven to help children express themselves and nurture a positive sense of self," Leora said. "I absolutely believe that Pablo Picasso was right in stating that 'every child is an artist.' Unfortunately, though, every child does not have equal access to art education. Little Picassos seeks to redress this imbalance."
Little Picassos is generously funded by a grant from American Girl's Fund for Children.