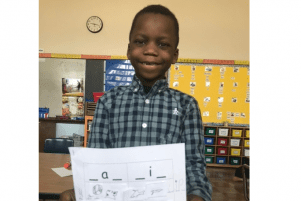 When Josiah's family got evicted, the stress of being homeless affected everything Josiah did. Returning to housing helped him thrive in school again.
When Josiah's family got evicted from their apartment, everything changed all at once for him. Suddenly, he had no place of his own—no bed to sleep in, no dresser to put his clothes in, not even a quiet, private place to complete his school work. His family was able to move into a shelter program. They felt grateful to have safe, warm a place to sleep but the instability was stressful for everyone—particularly Josiah. The effects of this level of stress could be seen in everything he did. Soon, Josiah was having behavior issues in school and difficulty learning.
Josiah's family began working with The Road Home. With the help of their case manager, they were able to find housing. Initial financial support from The Road Home helped them pay their security deposit and first month's rent so that they could have the resources they needed to become stable again.
For Josiah, this made all the difference. With his family back in housing, Josiah was able to focus in school again and is thriving now. He learned how to read and is working on his writing. He enjoys using the educational activity books The Road Home gave him.
Josiah isn't alone. In 2014-2015, there were 1.26 million homeless students across the US including over 18,000 in Wisconsin. Recent studies show that homeless students transfer schools more often, are more likely to miss school, have lower standardized test scores, and are 87 percent more likely to leave school than their peers. Helping families like Josiah's return to housing and stabilization enables them to achieve their potential. And it enables children like Josiah to learn and grow without the stress of homelessness.
Thank you for your support that makes success like this possible.