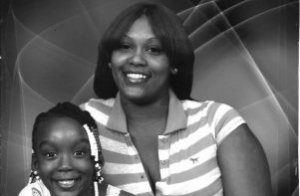 With a foundation of housing firmly in place, Shamaya was able to build a life for her family again. Shamaya secured employment and her daughter has thrived.
We'd like to share Shamaya's story with you in her own words.
Thank you for becoming a part of my family and for the amazing caseworker we have, Jenna. We wish we could keep Jenna as our caseworker for another 2 years! Jenna was the first person I called to tell about my new hospital job! Being able to get my own beautiful two bedroom at Waterleaf has allowed me and my daughter to get some stability in our lives. Having our own place has allowed my daughter to participate in a number of activities, like attending gymnastics lessons at Badger Gymnastics. The Road Home and their generous donors have helped make it financially possible for her to attend gymnastics. I've also been able to pursue employment opportunities that offer benefits and will allow me to support myself and daughter. My daughter Tierra (age 10) loves attending school at Olson Elementary and is excited to start 5th grade this year. Tierra would like to give a huge shout out to the donors who help her family afford to send her to gymnastics, helped out with Christmas gifts and school supplies.
Sincerely, Shamaya and Tierra