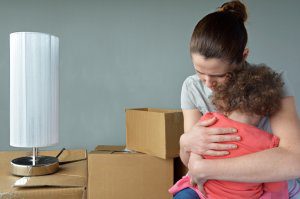 With more media coverage of evictions the last few years, have you wondered about the issue in our community? At The Road Home, it's something we see often.
Many people are familiar with Matthew Desmond's book, Evicted: Poverty and Profit in the American City, which took place in nearby Milwaukee. But have you ever wondered what the issue of eviction looks like here in Dane County? At The Road Home, it's something we encounter regularly.
Eviction is traumatic for families and can lead to homelessness. Yet, it happens frequently in our community. Evicted in Dane County: A Collaborative Examination of the Housing Landscape, a recent report by graduate students at the University of Wisconsin-Madison, found that "between 2000 and 2015 there were 40,439 eviction court cases initiated in Dane County, with an average of 2,527 cases per year." The summer months had the highest number of evictions.
"Evictions are often misunderstood," said Zach Stephen, a case manager at The Road Home who has worked with many families with evictions on their records. "While the end result of eviction looks the same, the story behind how it happens is different from family to family. I've seen hard-working parents who got laid off and just needed time to get back on their feet—but got evicted before they could. I've had parents lose their housing because someone from a past abusive relationship showed up unannounced and the police were called. No matter what the cause though, eviction will always impact someone's chances of finding housing in the future."
At The Road Home, we work to create more affordable housing, enabling more families to locate housing that fits their budget, decreasing evictions. Our case managers also help families negotiate with landlords to avoid evictions as well as help families with past evictions secure housing. Landlords are often important partners in helping families maintain stable housing. "I've met so many great landlords here in Dane County who are passionate about helping house families that have significant barriers," said Stephen. "It's so wonderful to see landlords who are invested in their communities and in seeing their tenants succeed."
Creating partnerships like these helps us reach our goal of ending homelessness. Thank you for your support that makes this possible.