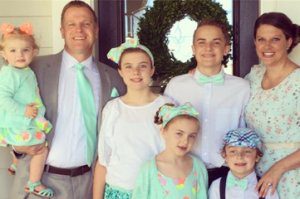 Did you know that the more people volunteer the happier they are?  By volunteering at The Road Home, families like the Fackrells are reaping the benefits.
Did you know that studies show that the more people volunteer the happier they are? Recent studies have shown that family volunteering offers even more benefits. In one study, families said volunteering brought their family closer together, strengthened their family value system and helped them build larger support networks as they connected with other volunteering families and adults. And the things children learn from volunteering with their parents seem to stick with them. Another study found people whose parents volunteered are more likely to volunteer and give to charitable organizations than people whose parents didn't volunteer.
Unfortunately though, sometimes finding opportunities to volunteer together as a family can be difficult. Many volunteer opportunities don't allow children—particularly young children—to participate. That's one of the great things about being a volunteer at our shelter: we welcome and even encourage children. Volunteer families can help serve dinner to families in shelter and then enjoy the dinner with them. They can also play games and do art projects with the kids.
Andrea and Regan Fackrell recently took their family of five children to volunteer at The Road Home's emergency shelter. "My family and I had a wonderful evening playing with the kids at the road home for an evening. My kids could see that the kids there were regular kids, just like them," Andrea said. "Everyone had someone to play with and I had the best time holding the cutest baby. As we were driving home, my kids all agreed that they had an awesome time and I think what it came down to was that kids love playing with kids! We will be taking our kids to help with The Road Home again and again."
Thank you for being part of our emergency shelter program and for making a difference in the lives of our families.