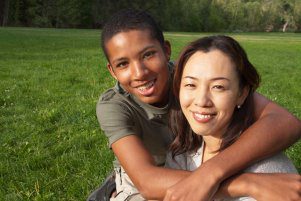 Moving Up, one of the housing programs The Road Home provides case management for, helps creates space for families currently homeless. Here's one family's story.
Over the last few years, we have been expanding our housing programs in order to meet the needs of families in our communities. One of the newest programs we are involved with is Moving Up, a program that seeks to increase the availability of permanent supportive housing. The story of Mary* and Kandice* shows how it works.
Mary and her fourteen-year old son had lived in our House-ability program for eleven years. House-ability, a collaborative program with the YWCA Madison and The Salvation Army, provides permanent rental subsidies and case management services for families that have a parent with a disability. This program laid a foundation of stability for Mary and her son.
Recently, the family felt they didn't need the same intensity of services anymore and were ready to move on. A case manager from The Road Home talked to Mary about Moving Up. Moving Up is a collaboration with the City of Madison Community Development Authority with case management provided by The Road Home. It is partially made possible through the Cremer Foundation who provided a $20,000 grant for transitional case management services as well as emergency rental assistance up to $250 for those families in the program who experience a job loss or other emergency to help them stay in housing. Through the Moving Up program, Mary received a Section 8 voucher which provided a housing subsidy and enabled her to continue to receive some supportive services. Mary used her Section 8 voucher at the same rental unit she was currently living in, allowing her son to stay at the same school.
Across town, Kandice had been living in her car with her three children, ages 9, 10 and 13. With Mary moving into a new apartment, a spot was opened up in the House-ability program. Kandice* and her children were able to move into housing.
Thank you for your support that enables us to help families like these.