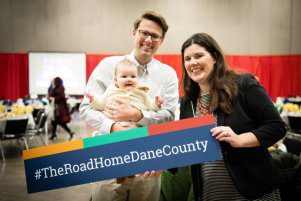 To better accommodate past growth and plan for future steps, Sarah Ceponis was brought in to fill a one-year position.
As the affordable housing crisis has continued to grow in Dane County, The Road Home too has grown and expanded its services to support families. To better accommodate past growth and plan for future steps, Sarah Ceponis was brought in to fill a one-year Nonprofit Strategist position. This position relied on funding from a generous multi-year capacity building grant from the CUNA Mutual Group Foundation.
Sarah came to The Road Home with a background in program planning and implementation. "Having spent a few years working with a system-level view of family homelessness in Dane County, I was aware of the landscape The Road Home was part of, the great work being done here, and the unique opportunities ahead for growth," Sarah explained. "I was drawn to The Road Home because of its culture. The compassion of staff and their commitment to creating a stronger community is apparent across every aspect of the organization."
In this role, Sarah sought to first listen and learn about the current assets and challenges of the organization, and from there brainstorm, build, and implement new or improved programs and processes for staff, and ultimately, families, to benefit from. "Many of the projects I have worked on are things that matter a little bit today, but will matter a lot more tomorrow, and perhaps matter even more a few years from now," she said. These projects include improving grant tracking, streamlining internal processes and restructuring the organizational chart. She's also helped new work come to life like the Building Futures collaboration with the YWCA and RISE, and laid the foundation for potential new programming ahead, like the volunteer driver's program, expanded services for young adults, and utilizing the Day 1 Fund grant.
This summer Sarah and her family will relocate to Baltimore, Maryland. She will support some work from afar in the short term, but has set up her projects so that they can be sustained as she steps away. This means that the impact of her work will continue here even as she dives into the nonprofit sector in a new place.