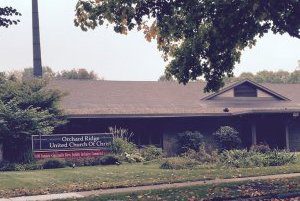 With HEART ROOM, a new program to help families experiencing homelessness, Orchard Ridge continues to make a difference in our community.
by Helene Nelson, Facilitator ORUCC Heart Room Mission Team
Like many congregations, over the years Orchard Ridge United Church of Christ (ORUCC) has responded to the call of the gospel to provide shelter and homes for people in need of them. For about 18 years, we were a host congregation for the Interfaith Hospitality Network shelter. We also supported a Second Chance apartment family and conducted special offerings to raise funds for The Road Home's work, as well as working with other housing programs. In 2017, ORUCC re-committed to promoting stable housing for families as a priority. ORUCC reached out to The Road Home, The Joining Forces for Families (JFF), Early Childhood Initiative (ECI) and community residents to develop a new approach called HEART ROOM. Through a focused fundraising drive, HEART ROOM will become a reality this year.
ORUCC is committed to the vision that every family deserves a home. We are focused on housing for families with young children, knowing this will increase their chances to grow up safe, healthy, happy and successful in school and life. We appreciate the opportunity to partner with trusted and respected partners – The Road Home, JFF and ECI.
HEART ROOM is a pilot program that will provide six families with opportunities to achieve housing stability long-term. Families chosen for this program will have young children; be struggling to secure or retain housing; not have other public or private housing subsidies such as Section 8 or public housing; and be able to benefit from HEART ROOM to create a pathway leading to housing stability.
HEART ROOM will combine three years of significant rental assistance with flexible and family-driven support and services. The Road Home will be responsible for housing, case management and distributing rental assistance. Families will work with JFF for employment needs and ECI for children's mental health. ORUCC will fund the rental assistance. The program includes other connections to neighbors and landlords.