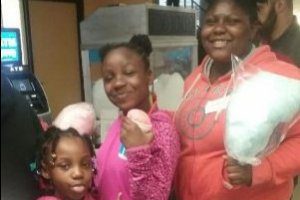 Sonja and her girls arrived in Madison with nothing. With a little help from a case manager from The Road Home, they found a home of their own. 
We'd like to share Sonja's story with you in her own words:
This is a letter of thanks. My family and I would like to give thanks to The Road Home, Waterleaf Apartments, and the individual who donated the beautiful car that my family was given. I am especially grateful to The Road Home because I truly believe that without their help my transition from Flint, MI to Madison, WI would not have been possible. With the help of The Road Home we were able to get a new start in a new town, with access to clean water, and were able to get our beautiful apartment at Waterleaf. It is such a joy to be able to turn the key and open the door to my own apartment. My girls have their own room, that they share of course, but it is theirs. My case manager helped me get beds for my girls to sleep on, since they were sleeping on the floor. Now my girls are able to get a good night's sleep and they are able to go to school well rested and ready for the day.
The Road Home also made it possible for us to have a vehicle of our own. Previously, we had to depend on others to get to work and get my girls to school. Since they go to Verona Area Schools, they are not eligible for transportation through the schools. Thanks to The Road Home and the generous family who donated the car, I no longer have to depend on others to make sure my kids get to school and I get to work on time, and we can make it to doctor's appointments on time. Trips to the grocery store are no longer a hassle. The Road Home really helps people to help themselves. My family is so grateful for everything, and we are especially grateful for our case manager Jenna and her undying efforts to help us get all of the resources she knows will make our lives easier and help us to continue to improve. In closing, our family would like to give a big thank you to The Road Home, Waterleaf Apartments, and to the generous individual who donated the car.
Sincerely,
Sonja and family