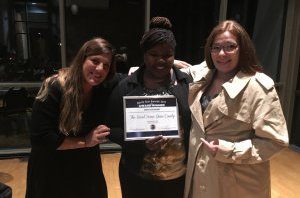 Georgie Nazos (left) and Qiana Homes-Abanukam (center) recognized as unsung heroes for their work with families on Madison's Northside. Crystal (right) nominated them.
Fourteen years ago, The Northside Planning Council started the North Star Awards to honor unsung heroes in Madison's Northside who make the community a better place. The awards are meant for people who change lives–but who do it quietly, often without any recognition.
The Road Home was among this year's recipients. Qiana Homes-Abanukam, education specialist, and Georgie Nazos, case manager, work with families on Madison's Northside at Housing & Hope. Housing & Hope is one of The Road Home's permanent supportive housing programs. This unique and successful model provides affordable rent and on-site case management services to Madison area families in two different locations each with 15 apartments owned by The Road Home. "Qiana and I partner with the families who reside at Housing & Hope to help them achieve self-determined goals," Georgie said. "Ensuring families have tools and support to successfully maintain housing is the foundation of all we do, but we try to work as holistically as possible."
Qiana and Georgie were nominated by a Housing & Hope family who wrote, "The Road Home has helped and continues to help families with any crisis. They truly care about and for their families and the neighborhood they are in. Without them, many of these families would be torn apart. They have provided assistance above and beyond any organization I have known. They are very special to the Northside in every way possible. I thank these incredible workers from the bottom of my heart."
Georgie and Qiana help families be successful in a variety of ways. Qiana advocates for children at their schools and helps connect them to community and educational resources. Among other things, Georgie helps families overcome barriers as well as set and obtain employment goals. "The families who reside at Housing & Hope are an amazing community. We feel honored to be invited into so many personal parts of peoples' lives and grateful to be a witness to all the positive partnerships, advocacy, generosity and empathy the families we serve show each other and their neighborhood everyday. We are grateful and surprised to receive this award for doing the jobs we love," Georgie said.
Georgie and Qiana were honored at The North Star Award Ceremony on Friday, Nov. 3 from 5:30–7:30 pm at Warner Park Community Recreation Center.