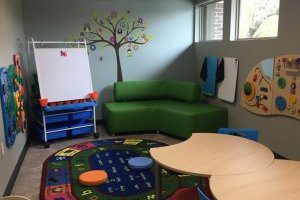 We are so grateful to Wall Family Enterprise for their generosity in making the children's play area in our building bright, beautiful and fun for kids.
Recently, The Road Home was the recipient of a generous donation from Wall Family Enterprise. First, a designer visited our children's room to make a plan for how to furnish and decorate it. Then they ordered and installed bookshelves, an activity table and chairs, an interactive learning wall and more. Wall Family Enterprise also provided a brochure display rack for our reception area and donated items for our two Housing & Hope sites. The furniture, materials and design services they donated are valued at $15,000.
We utilize our children's room during evening classes and information sessions. Parents can attend sessions in the room next door while kids play with volunteers in the children's room. Children also use the room during the day while their parents meet with case managers. With children happily occupied, parents have more focused, uninterrupted time with their case managers. This allows them to do the important, intensive work they need to do to find and maintain housing. Thank you to Wall Family Enterprise for supporting our work of ensuring every child in our community has a home!