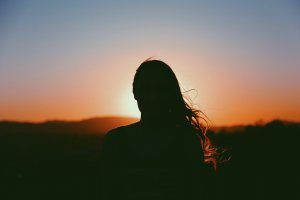 When Kara found herself facing homelessness alone, she felt overwhelmed. Her case manager helped her find housing – and strength she didn't know she had. 
My family and I became clients of the Road Home a few years ago. The summer beforehand was spent sleeping in our car, camping, finding public bathrooms to bathe in, and staying in homeless shelters. Our daughter was two years old then. We made the most of it and tried to be optimistic. I stayed busy trying to apply for apartments and jobs while still trying to continue school online at Madison College. We were very young with no housing history and my husband had a record of domestic violence. That said, we were consistently denied housing. His controlling demeanor prevented any progression in our circumstances. I remember one time I was about to leave the shelter to go to a job interview and he punched me in the face, breaking my glasses and leaving me in tears. Nothing came of the interview. How could I promote myself when any time I tried to do something positive I was knocked down?
Eventually we were able to move into the residential Housing and Hope program. It was my first place and I was so grateful. The abuse, along with his alcoholism, became worse though, until the point he was taken to jail when I was pregnant with our son. When I was younger I never understood why some women stayed with abusive men. I thought our situation was different. I loved him and thought I needed to be there to help him. Slowly, I realized I was only enabling him and was eventually motivated by the thought of my own kids growing up learning that it's okay to abuse and be abused.
Georgie, the Housing and Hope case manger, gave me support through it all, while still trying to provide him with help. Without her love and sincere desire to help, I don't know if I would have found the strength to make it through. To me, her service went beyond helping me find permanent housing, but to help me personally and remind me that I, as a human being, am far too precious to be stepped on.
Since that time, I have found permanent housing. I am still poor. I still go to the food pantry to stretch money. I still don't have a car because biking is cheaper. But I do have myself back. I have joy. My two kids don't have to watch me get hurt. I don't have to take showers at the beach or call the Salvation Army to see if I can sleep in a hallway. I have graduated from Madison College and I'm right now procrastinating on my homework for a Bachelors at City Vision University. The Road Home helped me with housing, with getting scholarships, and with helping me get on my feet.
But far greater things have been accomplished than just those. I praise God that through everything I have been refined and made stronger. Thank you to all the volunteers and donors who have helped many lives like mine.