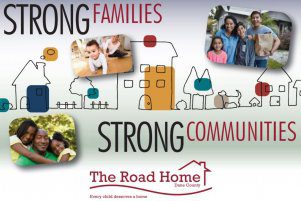 At our virtual event, Aurey shared his journey from homelessness to stable housing, a college degree and a bright future ahead for his son.
This year instead of gathering around tables at the Alliant Energy Center, attendees of our annual Homes for Families Fundraising Breakfast participated in different ways. Some met over Zoom with virtual "table hosts" to watch our recorded presentation, while others tuned in on Facebook. You can still participate in our event by watching on Facebook or on our homepage.
Aurey, the featured speaker of the event, shared his family's journey from homelessness to housing. After staying at Safe Haven, a program through Porchlight, Aurey got into House-ability, a joint program with the YWCA Madison, The Salvation Army and The Road Home. During his time in House-ability, Aurey began working with his case manager, Justin. "He took the time to listen to me – to what I wanted to do in the future and to the things I needed some help with," Aurey explained. Although he hadn't attended school in twenty years, Aurey enrolled in Madison College. "I didn't really have good computer skills at the time, but Justin walked me through it, helped me navigate my laptop and he helped break everything down for me into smaller steps to help me learn," Aurey said. Last December, Aurey graduated with a degree in Business and Entrepreneurship with magna cum laude honors! Challenges still lay ahead as Aurey transitioned to the Moving Up program and struggled to find a landlord to rent to him. Justin helped him demonstrate to a potential landlord that his history of an eviction and criminal background didn't represent who he was now. Throughout his journey, Aurey has stayed focus on his son, Darelius, and creating the stability his son needs to thrive. "Now that my family – my son and I – are stable and stronger, we're in a position to make other people, systems and our community stronger. Justin walked through the good days and bad days with me and I want to do the same for others," Aurey said.
Kristin Rucinski, Executive Director of The Road Home, described some of the unique challenges The Road Home has faced this year. When COVID-19 hit in March, staff had to significantly change operations while looking for ways to support families who faced new barriers such as loss of child care or jobs. At this most challenging of times, support from the community flooded in. "The response was incredible, and showed we're stronger as a community when our neighbors are strong, safe and healthy," Kristin said. Just as The Road Home settled into these new patterns, George Floyd was murdered. The Road Home decided we could do more to combat racial injustices in housing—and that together as a community, we all could do more. "Every person – no matter your race, occupation or socio-economic status – has a role to play. The successes and hardships we experience – as a family, as a city, and as a country – are all interconnected," Kristin said. Despite the challenges of the year, The Road Home's programs have continued to expand. This expansion arrives at a critical time as the family shelter system is currently overwhelmed.
At The Road Home, we recognize that everyone's life has been disrupted by the COVID-19 pandemic and that many are facing new hardships. We also know that families in our community who are experiencing homelessness need your help more than ever before. As Kristin said, "It's hard to social distance if you don't have a home. It's hard to work from home if you don't have a home – or a job that allows for working remotely. And it's hard to do school from home without a home." You can join our efforts by donating now.
We appreciate the support of our generous sponsors, our table hosts and guests. Funds raised help support housing programs, case management and other services for families with children transitioning from homelessness to housing. Thank you for coming together to make a lasting impact on families with children who have experienced homelessness in our community.