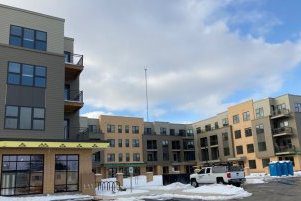 Tailor Place, our newest affordable housing program, will open in February. It will include ten units for families who have experienced homelessness.
We are excited to share news with you about our newest affordable housing program. Tailor Place, our third partnership with Stone House Development, Inc., will open in February. This development was made possible in part by the City of Madison Affordable Housing Fund and will include ten units specifically for families who have previously experienced homelessness.
Similar to our Moving Up program, families will be eligible for these units if they are currently in a housing program but need longer-term affordability with some support services. The goal is to create room in housing programs for families who are currently experiencing homelessness. The Road Home will provide on-site case management at Tailor Place, which will also include community gathering spaces.
We are very grateful to United Way of Dane County's Business Volunteer Network who assembled and donated Welcome Home Baskets which will be given to families moving into Tailor Place. Kits include shower curtains, cutting boards, garbage bags, cleaning supplies and more. We also appreciate your support during this difficult year. We recognize that challenges still lie ahead and we look forward to working with you to continue to make a difference for families experiencing homelessness.