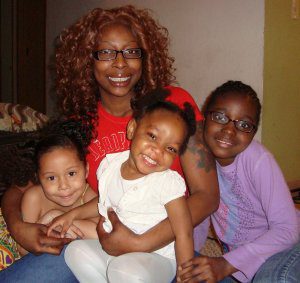 Whitney moved to Madison with her two daughters and in her third trimester of pregnancy. She wanted to be closer to family she had in the area and raise her children in a safe environment. When her family arrived in Madison, they had no money and all their personal possessions fit into three suitcases.
Whitney's health was extremely poor and she was worried about the health of her unborn child. The added stress of being homeless made the situation even more concerning. The family bounced from shelter to shelter until they were referred to The Road Home's Housing & Hope Program. Whitney was approved for a three-bedroom apartment—something she described as an absolute blessing. It was very important to Whitney that she had a stable home where she could raise her children.
With the support of case managers, Whitney has been able to accomplish a lot. Her daughters are excelling in school, and Whitney has been able to get treatment for her health issues. She has stayed alcohol-free, is enrolled in school and is on the path to getting her nursing degree. She is an active participant in the Tenant Advocacy Group (TAG) and volunteers her time back to The Road Home. With TAG, she is advocating for policy changes that can help other families who are experiencing homelessness. She is also part of the Housing & Hope knitting group and has created several beautiful knit scarves and blankets.
Whitney has now been in stable housing with her three daughters for three years. She says, "Not only am I striving to be a better person but I am also striving to be a wonderful mother and be a good example for my girls."