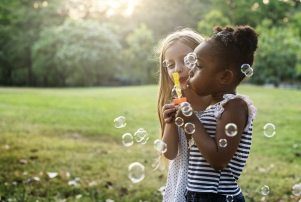 When we listen, together we can help families and children like Jane, a young girl with cerebral palsy in one of our housing programs, find their voices.
At The Road Home, we know that listening is important. We strive to listen to the families we work with, to understand where they're coming from and where they'd like to go—so we can help them get there. In order to listen, we have to make sure the families we work with have a voice so they can be heard. Recently, we had the opportunity to help a young girl find her voice in a unique way.
Jane*, a young girl with cerebral palsy in our Housing & Hope apartments, has had limited ability to communicate. Cerebral palsy often affects the ability to coordinate muscles around the mouth and tongue needed for speech. When the family was homeless, getting needed resources was very difficult, leaving Jane's communication options limited.
Since moving into The Road Homes Housing & Hope Phase II apartments, Jane has been able to make great strides. Her case manager, Elizabeth, helped her family through the process of obtaining a talker for Jane. This has allowed her to communicate with those around her in a whole new way. Our staff was listening as Jane navigated the complicated digital machine for the first time to ask them if they knew anyone with disabilities, and if they did, what their advice for her would be. Having a home allows her to use this equipment not only at school and doctor's offices, but also at home, providing invaluable time to work on her communication skills.
To help Jane receive the services she needs, we had to really listen—to understand the family's challenges and strengths—and to collaborate with others to find solutions. Jane's younger brother has severe autism spectrum disorder, making getting Jane to her appointments challenging sometimes. Elizabeth takes Jane to her weekly appointment at the Waisman Center, and then to school so she does not miss any of the school day. The Waisman Center also provides training to Jane and her mom on their new lives with communication.
We couldn't do this without you. Thank you for listening to these needs in our community. Your support of The Road Home Dane County is making a difference. You listened to the need in our community—and then you acted. Our community has seen a remarkable 50% decrease* in family homelessness over the last five years. More than 90% of families in The Road Home programs remain in housing one year or longer.
Together we can help more children like Jane. Your gift helps us provide supportive services so more children and their families can thrive in stable housing. Please consider giving today. Thank you for listening—and then taking action.
Here are some ways your generous donation can have an immediate impact:
$35 helps a parent travel to a job interview
$50 purchases swimsuits and basketballs for children's summer activities
$100 helps support case management for children and families
$250 provides one month of rental assistance for a family of four
$500 buys beds for families moving into an apartment
$1,000 helps one child in shelter transition to a stable home
*names have been changed to protect privacy