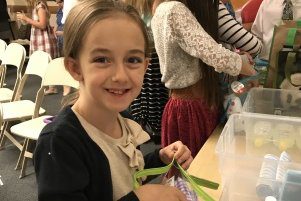 Over the past few years, The Church of Jesus Christ has helped with Healing House meals, wish list drives, Sharing the Holidays and other activities.
by Teresa Rankin
Our congregation, The Church of Jesus Christ of Latter-Day-Saints, Madison 3rd Ward, began our relationship with The Road Home in 2016. We joined with the Middleton Community Church and Good Shephard Lutheran Church to help with The Road Home's Interfaith Hospitality Network shelter program. We believe in following the example of Jesus Christ and serving those who are in need in our communities. We also believe in and support The Road Home's mission of ending family homelessness because every child deserves a safe, stable and secure home.
When The Road Home phased out their shelter program, we were pleased to continue our relationship with them and our companion congregations by helping out twice a year with family celebrations, as well as supporting Healing House needs several times a year. Healing House fills an important need in our community by providing a place for homeless families to rest and recuperate after a significant medical event such as surgery, birth of a child or other medical procedure.
One of our congregation's favorite ways to be involved with The Road Home is by participating in their Sharing the Holidays program. We are provided with wish lists from families The Road Home serves and we pool our resources to provide holiday gifts. Because we work together, we are able to serve some of The Road Home's larger families. As a congregation, we have also had several campaigns over the years to collect some of The Road Home's most needed item such as personal hygiene items.
We hope to continue our relationship with The Road Home far into the future as they work to provide housing for and otherwise support the needs of families transitioning from homelessness to housing. We are especially grateful to be a part of The Road Home's efforts to help children grown up in stable housing and to help families develop the skills and tools they need to succeed. Working with The Road Home has provided meaningful experiences to members in our congregation and gives us the opportunity to make a real difference in our community.