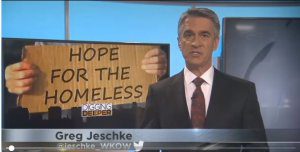 A Channel 27 WKOW news segment describes the downward trend in family homelessness and the role The Road Home is playing in helping families find housing.
A recent news segment described progress the Madison area has made on the problem of homelessness and the role The Road Home is playing in making that happen. The numbers show a consistent decline over the last few years. Journalist Jennifer Kliese explained that with the need decreasing and agencies collaborating to meet that need, The Road Home will close its shelter to focus on housing programs as the solution to homelessness.
Carrie, a former client of The Road Home, shared her story. Six years after being homeless, Carrie's family remains in housing and she has achieved her goal of owning a vegan bakery, LushLife. "With their help and guidance, I was able to get into housing, get stability – and it was all up from there," Carrie said.
"Getting people into housing has always been the end goal," said Kristin Rucinski, executive director of The Road Home. To do that, The Road Home has been partnering with others to open new affordable housing units. Paul Soglin, Madison's Mayor, shared that Madison is on track to meet their goal of adding 1,000 affordable housing units by 2020. "There's still a lot to be done," Kristin explained. "But the trend is going in the right direction."
Click here to watch the news segment.