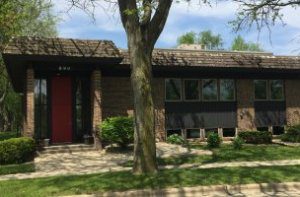 We're excited to share our big news with you! At the beginning of June, The Road Home moved to a new location just down the road from where we were before. We purchased larger office space located at 890 West Wingra in Madison with twice as much square footage as our current rented space.
Thanks to the continued support of businesses, congregations and individuals, we've been able to expand our reach to more families experiencing homelessness in our community. We now serve 31% more families than we did just 4 years ago. To meet that need, our staff has increased by 5. Because of this growth, some of our case managers were sharing office space, making confidentiality and privacy for families challenging. Not only do we now serve more families, we also serve families more fully, offering more holistic wrap-around services that can help them not just find housing—but maintain it. However, space at our previous location presented limitations in what we could do. Our new building allows us to address these issues and better serve families who have experienced homelessness. Here are a few of the things we're most excited about:
Private offices for our case managers will enable confidentiality and provide opportunities for better trauma-informed care.
A large program space will be used for skills classes as well as community-building recreational activities.
A children's area creates a child-centered play space for children while parents attend classes. On some evenings, volunteers will interact with children here while parents are taking advantage of other opportunities.
A touchdown space provides an area for staff primarily located off-site to work when they stop in the office for meetings.
A large conference room can accommodate group therapy sessions as well as staff and community meetings.
The building has better accessibility for families, donors, and staff.
We look forward to our continued partnership as we work with families in our community.