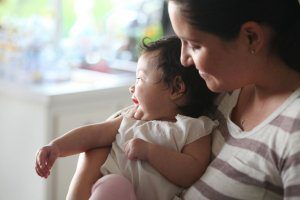 We are excited to share that we received a $1.25 million grant from Day 1 Families Fund! This Fund supports organizations that are moving the needle on family homelessness.
The Road Home Dane County is excited to share that we just received a $1.25 million grant from Day 1 Families Fund. We are grateful for this generous investment that will help us get one step closer to accomplishing our goal of ensuring every child in our community has a home. We are also grateful to the businesses, individuals and congregations who have supported our mission and growth throughout the years.
This one-time grant will allow the Road Home to ramp up its housing navigation efforts, bolster implementation of best practices, and invest in new technology that will help case managers better serve families. "This transformative gift will directly contribute to the reduction and prevention of family homelessness in our community over the next five years," said Kristin Rucinski, The Road Home Dane County's Executive Director. "The generous support of the Day 1 Fund will be used to empower families through supportive services in new affordable housing units, peer support from staff with lived experience, and partnerships with landlords to reduce homelessness. This is a unique opportunity to expand our capacity and ensure that children and families can thrive."
The Day 1 Families Fund worked with a small group of homelessness advocates and experts to identify a list of organizations across the country that are moving the needle on family homelessness. The Road Home was one of the organizations they invited to submit a grant proposal. We were then chosen as one of 32 nonprofits to receive the second annual Day 1 Families Fund grants which total $98.5 million. Learn more about Day 1 Families Fund here.
The Bezos Day One Fund was launched in 2018 with a commitment of $2 billion and a focus on two areas: funding existing nonprofits that help homeless families, and creating a network of new, nonprofit tier-one preschools in low-income communities. The Day 1 Families Fund issues annual leadership awards to organizations and civic groups doing compassionate, needle-moving work to provide shelter and hunger support to address the immediate needs of young families.
We appreciate the commitment of our community to the issue of family homelessness. The best results come when we all work together. We look forward to gathering clients' input on how we can strengthen programs and to partnering with individuals, businesses, congregations, landlords and other partner agencies as we use these funds to bring about real change. Together, we can continue making a difference for families who have experienced homelessness in our community.