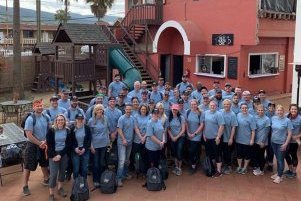 One way Titus Talent Strategies fulfills their commitment of giving is by supporting families in finding and maintaining stable housing.
Titus has a commitment of giving! Our mission is to give back to the communities in which we serve and act as a catalyst of change for good in the lives of others. Every dollar that has come in since 2015 has been allocated from a perspective of generosity and stewardship. We are united around our strong set of "lived values" that have led to our success and growth. One of these values is servanthood. To us, servanthood includes financial generosity and giving back to the communities we serve. Titus is honored to support The Road Home as they help children and families in Dane County.
Titus believes that physical housing is one powerful element that contributes to a healthy family and sense of security. This aligns well with The Road Home's mission of helping families find and maintain stable housing as well as working with partners to create new affordable housing. That's why Titus has supported The Road Home with financial and in-kind support through activities like sponsoring The Road Home's Homes for Families Fundraising Breakfast, hosting tables at the Breakfast, and securing donations of school supplies for their backpack drive. In addition, Sales Director, Kalee Werth, serves on the Development Committee. Titus is committed to The Road Home and our relationship will continue to evolve as we address homelessness and disparities in Dane County and throughout the country. Our commitment to housing also took us to Ensenada, Mexico in February to partner with Youth With a Mission's (YWAM) Homes for Hope in the building of homes for three families.
At Titus, we are committed to giving and we aren't stopping now. We believe in the power of Living to Give and know we are only able to give in this way because of our Partners and their investment in us.