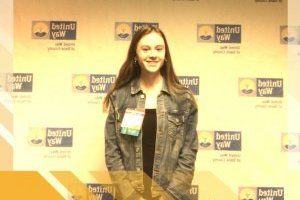 We were thrilled to recognize Leah Huggett for her regular presence at Housing & Hope, Phase II at this year's United Way Community Volunteer Awards.
Leah Huggett was this year's nominee from The Road Home Dane County for the United Way Community Volunteer Awards that took place on April 30. Here, Leah and other community volunteers were recognized for their dedication to making our community a better place.
Leah started volunteering with her family at holiday events and parties for families in our housing programs. Leah and her sister Dana instantly became fixtures at the events at Housing & Hope Phase II because they were always willing to have fun playing games and interacting the families and kids. Leah graduated from high school a semester early. Since then, she has continued volunteering regularly at Housing & Hope Phase II. Her tasks range from cleaning the office, helping plan events and activities, sorting donations, and providing childcare during case management sessions.
Because Leah is a regular presence at Housing & Hope Phase II, all the families and children there know her. Leah is able to provide childcare while parents participate in case management meetings. This provides staff and parents the invaluable resource of uninterrupted, distraction-free time to do the intense work they need to do. Leah's presence allows families and case managers to spend more meaningful time together, which in turn helps to foster success in housing.
This December, the case management team at Housing & Hope Phase II had the wild idea of throwing a beach party in the middle of the winter. In the months leading up to the event, Leah helped by creating decorations, setting up for games, and even wrapping dozens of prizes in blue paper to be "fished" out of a prize pool during the event. At the event, Leah and her sister helped set everything up so it looked like a real beach party and even solved a minor music crisis by explaining to the case manager what a "dongle" was, and providing one so the families could enjoy music at the event. Leah managed the prize station and helped everyone with the "fishing." Families had a wonderful time and were able to forget about the cold outside for the evening. The event would not have been possible without Leah's help.