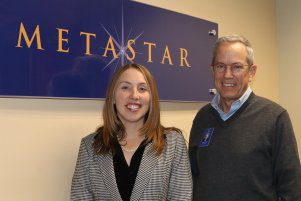 MetaStar takes their responsibility to give back to the community seriously. They became involved with The Road Home ten years ago and continue to partner with us in a number of ways.
by Greg Simmons
President and CEO, MetaStar, Inc.
Photo: Jesi Wang, incoming MetaStar CEO and Greg Simmons, President and CEO
MetaStar is a public benefit corporation that has a vision of optimal health for all. As a business located in Madison we take seriously our responsibility to give back to the community by supporting organizations that effectively meet the greatest needs of the people who live here. The Road Home is a sterling example of such an organization. We learned years ago that successful organizations like The Road Home rest on a three-part foundation — a clear compelling mission and vision, a strong board, and a strong staff.
MetaStar became involved with The Road Home over 10 years ago when we heard about its work to end family homelessness in Dane County. What could be more clear and compelling than to see that no child is without a place to call home? This has led to many event sponsorships as well as board, committee, and volunteer service by numerous MetaStar staff and their families.
I had the privilege to serve on The Road Home board for six years. I have been followed on the board by Jesi Wang who will become MetaStar's CEO when I retire at the end of 2019. We have both been impressed with the seriousness with which the board takes its financial responsibility and strongly supports new programs and services that have significantly furthered The Road Home's mission.
Finally, the caring, tireless, and very professional staff of the organization have been an example of dedication and compassion to all who know them. They never fail to impress with their knowledge, creativity, and the loving kindness they express to all who serve and are served by the organization.
MetaStar feels honored and fortunate to be able to support The Road Home now and for many years to come.