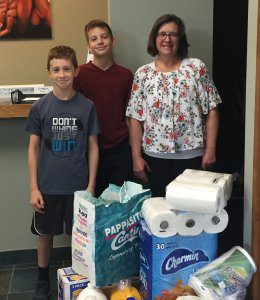 In the summer months, donations often go down but needs don't. Help families transition into housing by donating basic items like toilet paper and diapers.
Moving into housing is exciting – but it can also be overwhelming. Families and children often arrive in our supportive housing programs without even the basic life necessities. Donations of these items help ease the burden of moving and get families off to a successful start. The summer months tend to be the slowest months for wish list donations. But while the donations slow down, the needs don't. Please help us restock so that together we can continue to make a difference for families in our community who have experienced homelessness. Some of our most important current needs include:
gift cards for grocery stores and gas stations
cleaning supplies
paper towels and toilet paper
diapers
To increase your impact even further, consider organizing a wish list drive with your business, congregation or other group. Recently The Church of Jesus Christ of Latter-day Saints (pictured above) held a wish list drive as part of their annual 4th of July breakfast. Attendees filled boxes with basic items like those listed above.
Wish list items can be dropped off at our building at 890 W Wingra Drive on Mon-Fri, 8 a.m. – 5 p.m. For more information, visit our website or contact Takisha Jordan at  or 608-294-7998 ext 312.