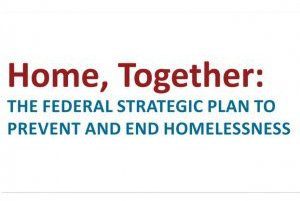 The new federal strategic plan shows that we are making progress across the country on reducing homelessness. Our local efforts continue to align with federal priorities. 
The United States Interagency Council on Homelessness recently released Home, Together, the new federal strategic plan to prevent and end homelessness. The report reviews the progress made across the country in the last few years: 13% fewer people and 27% fewer families experiencing homelessness in 2017 compared to 2010. These numbers show we are making strides in the right direction. Yet, there is still work to do as 550,000 Americans are currently homeless on any given night.
The new plan for 2018-2022 follows previous patterns, encouraging each community to work together "to implement a systemic response that ensures homelessness is prevented whenever possible or, if it can't be prevented, it is a rare, brief, and a one-time experience." The plan emphasizes the importance of continuing to adhere to Housing First practices, connecting people experiencing homelessness to "permanent housing swiftly and with few to no treatment preconditions, behavioral contingencies, or other barriers." The plan also suggests focusing on developing and expanding the supply of safe and affordable rental homes and looking for long-term solutions to homelessness through "a tailored array of community services." At The Road Home, we are pleased to report that our work continues to align with federal strategic priorities as we work to get families in housing quickly, partner with others to open new affordable housing units like The Breese and Heart Room, and provide wraparound services to address underlying causes of homelessness. We look forward to continuing to work together as a community to make permanent progress in decreasing homelessness.